Now at The Pen Corner Paisley Centre 23 High St PA1 2AF level 1 Entrance
Paisley's Four Seasons In One Day
Paisley's Four Seasons In One Day :-  With heavy rain on a dark Autumn's day.  The artwork will begin with the Anchor Mills in the background. Blending into snow clouds, above a Christmas Abbey scene. Moving into green grass and spring flowers, with a summer' blue sky over the Town Hall and the Coat's Memorial, reflecting light onto the High Street and the Paisley Museum.
Four Seasons in one day developments Rev 1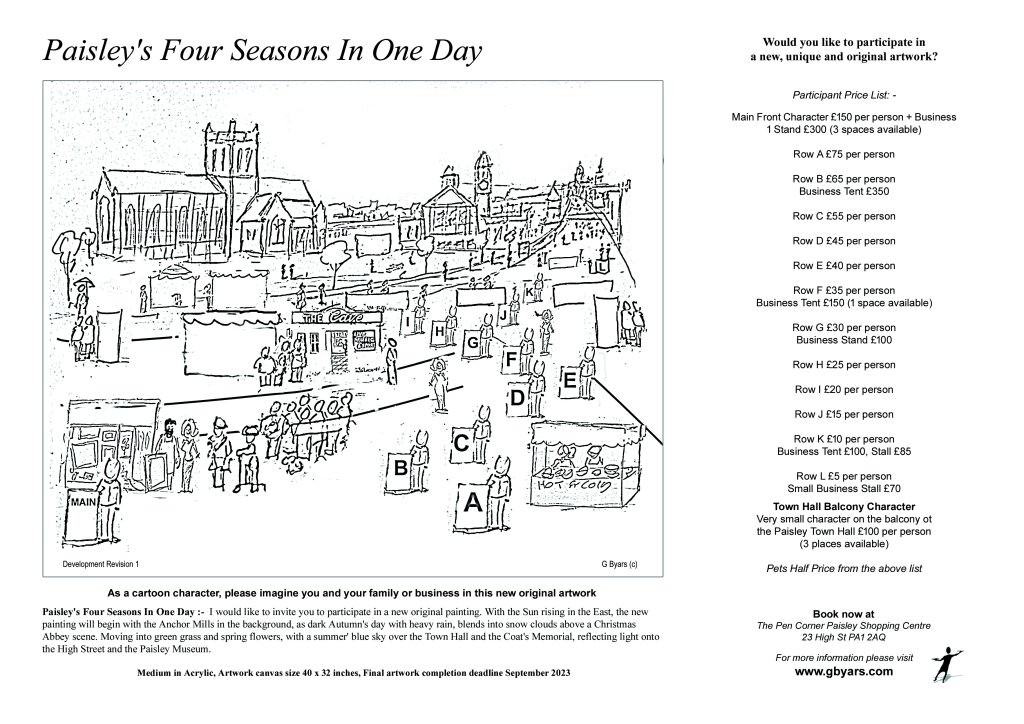 As a cartoon character, please imagine you and your family or business in this new original artwork.
Row A £75 per person
Row  B £65 per person
Row C £55 per person
Row D £45 per person
Row E £40 per person
Row F £35 per person
Business Tent £150 (1 space available)
Row G £30 per person
Business Stand £100
Row H £25 per person
Row I £20 per person
Row J £15 per person
Row K £10 per person
Business Tent £100, Stall £85
Row L £5 per person
Small Business Stall £70
Town Hall Balcony Characters
Very small characters on the balcony of the Paisley Town Hall £100 per person (5 places available)
Pets Half Price from the above list.
Please book your place in the new artwork by emailing sunshine_gallery@hotmail.co.uk
Four Seasons in one day participant list
1. Craig Porter with mother Betty (Row I)
2. Karen MCCoubrey & Julie Gough Row H
3. Barbra Mc Mahon (Row K)
4. Andy & Rosin Layden Paid Row I
5. David Potts & Daughter (Row K)
6. Derek Macintosh & 6 Family Row C
7. Tastys (Row B)
8. Pentecostals Church (Row C)
9. See 4 Less (Row E)
10. Paisley Picture Framers (Row B)
11. Dee beers (Row G)
12. John & Alison Row G
13. George & Anette Row C
14. Ben & Amanda Row J
15. Dougie and Sandra Heart Row H
16. Ann Brown Row L
17. Angela Ruddy Row L
18. Andrew Brown Row
19. Andy Reid Mod Scooter Row F
20. SW Locks Row E
21. Pat Kid Book signing Row E paid
22. Mary Stuart Row K
23. Bob Wilson Row H
24. Steven & son Steven Row K
25. Terry and Margaret McFadden Row G
26. Paisley Art Institute Row A
27. Charlie Jinks Child Row D with Medals
28. Paisley Gift Cart Row G
29. 3 children Row J
30. James Orabokie Row J Paid red jumper
31. Deninese & Graham Taylor Row G TJIBSI
32. Mr & Mrs Nherera Row J
33. Kenny Stuart Row J
34. Nancy Seaton & Dog Row f
35. Monika Row I paid 4 adults and child
36. George Byrne & Dog Row H
37. Mark Caldwell Row L Scotland top
38. Derek & Hannah dancing and piano
39. Craig Birall & Dad Row H Paid
40. Shuttle Garage Row G
41. George Row K paid
42. Isobel – 2 friends Sam and David Gallaghe Row G
43. Leich Thomas & Teresa Row J ? please contact Garry no Image
44. Steven Forgyth & Shiobham Row K Paid ? please contact Garry no Image
45. Barry Blair Row L
46. Sean Dillon Row K